Our Children and Young People
Children are always welcome at Goose Creek. Like our Quaker forebears, we believe that God's Light shines particularly brightly in children and we are careful to nurture that Light with tenderness and care.
---
September 26: Outdoor First Day School, 10:00-10:45
This First Day we'll study a passage from Faith & Practice then either enjoy some Nature Play Kit fun on the Oakdale School lawn, or visit the creek. Masks required for all non-vaccinated Friends. Masks, hand-sanitizer, and natural bug repellent will be available.
DIY Online First Day School
Click here to view on our First Day School page for an at-your-convenience lesson! This month's theme is Community, check it out – there are articles, links to resources, ways to help build community, plus excerpts from Faith & Practice, the Bible, our recipe of the week, and more!
Sign Up today to be a Friendly Adult Presence (FAP)!
There are slots available as we move into fall! Click here or on the icon below to sign up today; it's fun and simple – and we need you!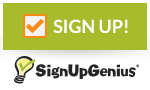 September 2021 Calendar
Guidelines: Outdoor First Day School
Masks are now required for everyone inside Meeting House and for all non-vaccinated Friends outdoors as well.
Children (all ages) and their families can either gather together outside on the Meeting House porch (main entrance) or indoors between 9:45-10:00 and share silent worship. The children can re-join their parents indoors (masks required) after First Day School at the rise of Meeting too.
We will have a box of new masks for anyone needed one plus hand-sanitizer;
At 10:00 the children (and parents too if they would like) and two Friendly Adult Presences (FAPs) will move to the porch of the First Day School room to start the lesson;
At 10:45, the children will gather again on the Meeting House porch (main entrance area) and wait with the FAPs to join their families and friends;
We suggest that everyone participating in the outdoor First Day School group consider bringing water, hats, a blanket, and wear sturdy shoes;
Parents of infants and toddlers are asked to stay with them during First Day School until we have arrangements for the nursery;
To use the restroom during Meeting for Worship, the children and adults are asked to use the First Day School room entrance to enter the Meeting House. Masks are required to enter the Meeting House;
Currently no snacks are currently being offered at the Meeting House; and,
Thank you for your patience as we enter into post-pandemic life!
---
When we are able to meet in person again, each Sunday we have a nursery for children from birth to kindergarten and First Day School for kindergarteners to 12th graders. Babies, children, and young Friends begin worship with the adults at 9:45 in the meeting room. At 10 a.m., led by the teachers, they leave Meeting for Worship and move to the gathering room for the nursery and First Day School.
Lessons cover everything from Quaker history and testimonies, to the Bible and Christianity, other faith practices, and spiritual paths.
In the lessons, the adults not only seek to impart knowledge but also to listen to each child with a whole heart and to allow them space and respect to find that of God within him or herself.

At the end of the school year, Goose Creek holds Book Sunday – this year on June 7, 2020 – where every child who participated in First Day School over the previous year is presented with a book. This is followed by an ice cream social to celebrate the start of the summer vacation.

We also encourage our young people to participate in Baltimore Yearly Meeting's Camping Program, where they can experience wholesome fun outdoors and learn how to "live" the Quaker Way of peace and mutual respect and love in community with other young people. During the school year, middle and high schoolers can also participate in BYM's Young Friends and Junior Young Friends weekends.
Street Address:
18204 Lincoln Road
Purcellville, VA 20132
Postal Address:
PO Box 105
Lincoln, VA 20160